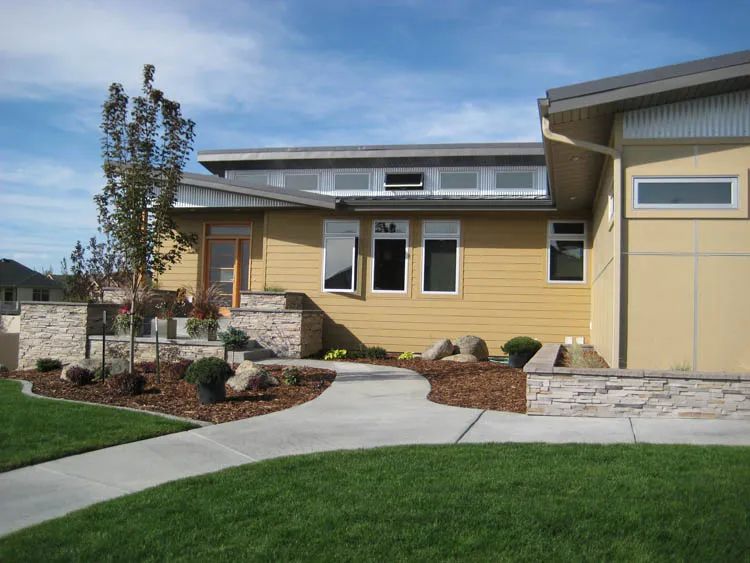 Landscaping
The Good Earth Works Company has a trained and experienced staff to help you seek the best options for your specific landscape desires. We can design and install projects varying from colorful perennial gardens to large commercial properties. Our in house design team can work to identify the unique characteristics of your property and lifestyle and merge them into a customized plan featuring trees, walkways, ponds, shrubs, flower gardens, boulders, lighting, and more. The designers at The Good Earth Works Company take pride in creating inviting and functional outdoor living spaces suited to your family, thus enhancing the way you use your home.
Our design team will work with you to select the proper hardscape materials for your project. We can design and build patios and walkways utilizing but not limited to concrete pavers, flagstone, brick pavers, stamped colored concrete, and textured colored concrete. Our most popular retaining walls are constructed with either a natural stone, boulders or a textured concrete block. We utilize sandstone, granite or moss rock boulders to help accent planting beds, land formations, or to create focal points.
The proper selection of plant material for your project is very important to our design team. We encourage customers to come to the nursery and see the various plants that grow well in our area. We only supply trees and shrubs that are northern grown and acclimated to the Billings area. We have a variety of ornamental grasses and perennials to help create more seasonal interest in your landscape.
The Good Earth Works Co. provides many options for defining the borders of your lawn. Our two most popular choices are aluminum edging and concrete curbing. The concrete curbing provides an attractive border to accentuate the landscape and eases lawn care by minimizing the need for weed whacking.
Proper irrigation of your landscape begins with the proper design of the irrigation system. Our design team custom designs each irrigation system we install to provide maximum coverage with the most efficient use of water.
Lawn installation can occur in various ways depending on season and budget. The two main methods for lawn installation are seeding and sodding. Seeding in a new lawn can take time to get full flush lawn while sodding creates an instant lawn. A hydro seeding application can be used on banks where traditional seeding methods may not work. We are also experienced in the installation of artificial turf as a means to minimize water usage on your lawn.
Water features can create a unique accent to your landscape. Streams, ponds and pondless waterfalls instill a soothing effect over you landscape. By creating a pondless waterfall, a majority of the maintenance with ponds is removed.
To emphasize the dramatic features in the landscape from rock walls to elegant trees The Good Earth Works Co. installs commercial grade outdoor lighting. Path lighting highlights paths and walkways throughout your landscape. Outdoor lighting also contributes to the safety of your home by discouraging unintended visitors.
The Good Earth Works Company uses commercial grade construction materials and supplies, and offers hardy, northern-grown plants to ensure high quality on all of our projects. Our design team can work with you to select the proper hardscape and plant material to fit your property and budget.